Eine kräftige aktive Hündin (rotzobel) sucht noch das richtige Zuhause!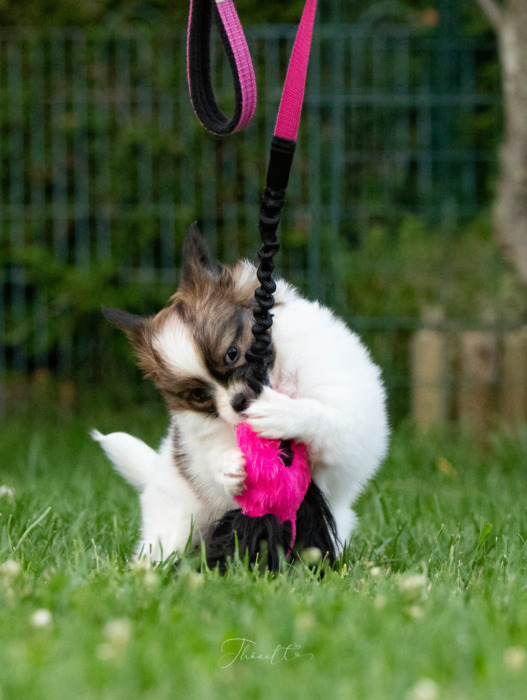 Sie haben Interesse an einem Welpen aus unserer Zucht,
dann schreiben Sie uns rechtzeitig mit ein paar Informationen,
damit wir den richtigen Welpen für Sie finden können.

Wir führen keine Warteliste, welche nach der Reihenfolge geht. Uns ist wichtig, dass wir den passenden Welpen für Sie haben.
Daher werden bei uns Welpen nicht versprochen/vergeben vor 6-7 Wochen und evt ist auch kein Welpe für Sie beim nächsten Wurf dabei und Sie müssen sich noch etwas Gedulden. Es liegt uns sehr am Herzen, dass unsere Welpen das passende Zuhause für Ihren Charakter finden, denn nur so können auch Sie glücklich werden mit Ihrem Schmetterling.

Ich freue mich über einen Anruf oder eine Nachricht von Ihnen.
Um auch für Sie den passenden Welpen zu finden, wäre es hilfreiche einige Informationen von Ihnen zu erhalten.
- Informatiosn about you family and your dayly life -contactinformations -do you live a house or appartment, for rent? Have you the okay of your landlord? - male or female, colorwish -will you be a first time dogowner or did you own perhaps already a papillon or other breed? -Show,Breeding,Sport,pet? -other animals in your home? - How long has your dog to be alone?
Of course you can visit us ,according to the arrangement.
If you don't get any reactions from me after 7 days, please try it again with another emailadress or call us. We try to asnwer as fast as possible.
Email: mail@tilas.de or Tel.: 0049 7423 / 8653800
---